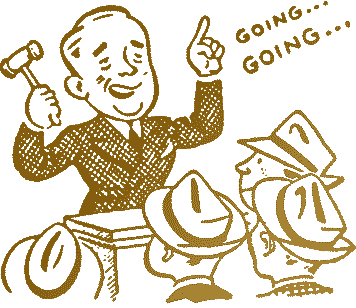 Bidding.... Where shall I start?
I met EBAY when I read my first business textbook in Year 1....
But signing up an account and actually participating in the bidding is a whole different story.
My EBAY adventures started on late January/early February. My friend and I was hanging out in Downtown and we started talking about where to find the good deals. She held up her hand and showed me her gold-chained bracelet with a strawberry attached to the chain. She told me she bid the item for 99cents with free shipping. Considering the ones you'd see in night market, its about 3-4x higher that amount.
Three MUST-NOT-HAVES:
1. Competitive
As a competitive newbie, I like to compete for the highest amount and ends up re-visiting the page every time I got outbidded. One time I won a bid for a $40 keychain! I ended up giving realistic excuses (not being able to afford rent/food) and she was kind enough to reverse the bid. Lesson learned. =)
2. Don't Care, lose track of time
After bidding at 5 things at the same time (different ending times/dates) I gave up checking it every now and then. They were hair accessories/bracelets which didn't matter if I won or lose. Most of these items ended up in the hands of an experience bidder who won the bid for under $2 (and free shipping I might add).
3. Not researching enough
When you bid for an item, usually there are more than three sellers that carry the same item (high demand, high supply). Not researching enough may get you bidding for something higher than the alternative, with a lower price. Some of the time, the "buy-it-now" price is cheaper than the bidding price, ironic eh?
Best of luck to all the brave souls out there! Have you bid on something you regret?
::PS::
My winning bids: 3X cellphone case, 2X couple keychains, 1X oreo portable mirror, 1X bracelet, 1X bag, and 1X Fringe hair patch